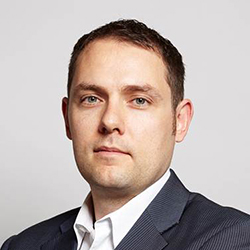 Vice President, Ketchum Global Research & Analytics
Ben Levine is a Vice President with Ketchum's Global Research & Analytics team, leading Ketchum's research and measurement capabilities in London. For the last 10 years, Ben has been counselling and leading on research, measurement and evaluation projects with a focus on PR and communications. Ben has worked with a variety of clients from banking, consumer electronics, lifestyle, corporate, and non-profits including Philips, Care International, UNHCR, Pandora Jewelry, Mastercard, P&G, Booking.com, Nissan, and Pfizer.
Ben's research experience covers both qualitative and quantitative methods and approaches, including surveys used to drive and analyse messaging, online focus groups used to shape and test brand positioning, media analyses used to gauge corporate reputation, and brand tracking surveys used to measure and understand the impact of communications on target audiences.
Ben has a Bachelor's in Business Administration from the University of New Hampshire, and studied journalism at Boston University. Ben is a Board member for the International Association for the Measurement and Evaluation of Communications (AMEC), and regularly speaks at events focused on measurement and analytics. In 2014, he was a contributing author to PR News's Measurement Guidebook.