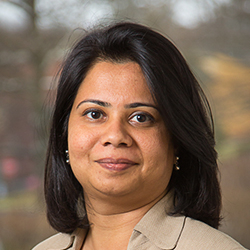 Chief Communications Officer & Citizenship Leader, GE South Asia
Rachana joined GE in 2012. At GE, Rachana is part of the leadership team where her focus is to lead & champion the communications function; and help strengthen, protect and nurture corporate reputation of GE. Her role comprises advising the Leadership team on all facets of communications, which includes employee engagement and external communications. She also leads the Brand, Advertising & Digital communications team for this region.
Rachana is also responsible for the Citizenship program where her role is to strategize the CSR program for the company. Rachana is a member of the National Advisory Committee for CSR for Indian industry. She believes it is key to plan the future course of CSR, not just within the company, but also drive a movement that supports inclusive growth pertaining to women empowerment. She is also a regional board member of the UK based forum "The Marketing Society" in India which is a reaffirmation that communications & marketing go hand in hand in the new digital age. Rachana was also listed as one of the top ten women corporate communicators by Reputation Today in 2016
Rachana completed her Master's in Business Management from International Management Institute. She started her career as a Management Trainee in Apollo Tyres. She headed the communications team for the region of Alcatel and UTStarcom at a time when telecom revolution was at its peak. Rachana was the Director of Communications for the French multinational Alstom in India before GE. She has extensively worked on sustainable development projects for the British Council in India.