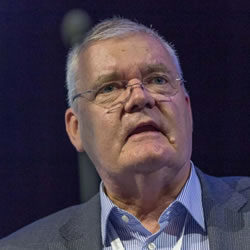 Professor of Public Communication, University of Technology Sydney
Jim Macnamara is Professor of Public Communication at the University of Technology Sydney and Visiting Professor at The London School of Economics and Political Science, Media and Communications Department.
He joined the academy in 2007 after a distinguished 30-year career in professional communication practice spanning journalism, public relations, and media and communication research.
He has worked and researched in the field of evaluation of communication since completing his Master's degree by research in 1992. Today, Jim also holds a PhD in media research and is the author of 16 academic and professional books including The 21st Century Media (R)evolution: Emergent Communication Practices (Peter Lang, New York, 2014); Organizational Listening: The Missing Essential in Public Communication (Peter Lang, New York, 2016); and, most recently, Evaluating Public Communication: Exploring New Methods, Standards, and Best Practice to be published by Routledge in third quarter 2017.