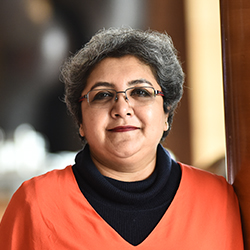 Head of Communications – India Sub Continent, GlaxoSmithKline Consumer Healthcare
Deepa started her career as a journalist for a reputed Business Paper in India and then moved to communications 23 years ago. During her career she has worked in leadership positions, both in-house and with a consultancy, supporting communication outreach for a range of industries including Hospitality, Retail, Real Estate, Infrastructure, Media, Consumer Electronics, Aviation, Telecom and Consumer Healthcare in India and South Asia. Her areas of expertise include Consumer Communications, Industry Orchestration, Corporate Reputation & Employer branding, Online Reputation Management, Issue Management and Executive branding.
Deepa joined GSK Consumer Healthcare in 2013 as Head Communications for India Sub Continent and is a part of the India Management team, Global Consumer Healthcare Communication Leadership Team and AMA Communication Leadership Team. She joined GSK from Bharti Airtel, 3rd largest mobile operator in the world.