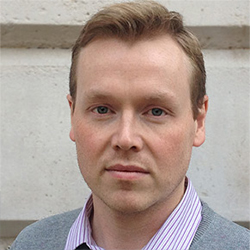 Head of Campaigns, Cabinet Office, Government Communications Service, HM UK Government
David Watson is Head of Campaigns in the UK Prime Minister's Office and Cabinet Office and is the team's expert on strategic communications, behaviour change communications and author of the GCS Guide to Behaviour Change and Communications. Prior to joining No 10, he had Head of Marketing roles at two government departments and has worked on issues as varied as recruitment to the Armed Forces, climate change, road safety, green energy, promoting careers in science, sports marketing, fire safety and much besides. David's campaigns have won multiple awards, including at Cannes, the New York Festival, the Clio Awards and more. 
David also provides advice on procuring and working with advertising and marketing agencies, creative campaign development, campaign strategy and copywriting. He is the current chair of the cross-government Heads of Campaigns and Marketing group, and a Fellow of the Royal Society of Arts. David holds a BA (Hons) in Politics and History from the University of Lancaster, with a specialism in Eastern European.